There are few plants that I have fallen madly in love with to the point where I just want to collect them all, but that is certainly the case with hoyas.
Because I am such a huge fan of this plant I have honestly been intimidated to write a blog post on them!! I was afraid I wouldn't be able to do hoyas justice. While I do still have some trepidation, I have decided it is time to try!
This blog post is meant to satisfy a craving for more information about Hoyas beyond basic care tips and the most common plants we see available for sale.
I am always trying my hardest to produce the best and most accurate post I can, so if you notice anything that isn't quite right let me know in the comments or at my email address: colleen@anaturalcuriosity.org.
Table of Contents
About the Hoya Genus
The Hoya plant was discovered by a botanist named Robert Brown in the late 18th century. He named the plant after a friend of his, Thomas Hoy, who was the gardener to the Duke of Northumberland.
Hoyas are commonly referred to as wax plants and porcelain flowers. Both names describe their delicate, waxy flowers.
The most popular hoya is Hoya carnosa (and its many cultivars). Carnosa means 'fleshy' due to the succulent leaves and flowers this hoya bears.
Hoyas are part of the milkweed family (now technically a subfamily), Asclepiadoideae.
They share this subfamily with many other popular houseplants such as Ceropegia, Dischidia, Stapelia, and Huernia. They also share with milkweed or Asclepias, which are the sole host plant for Monarch butterflies.
The milkweed subfamily is incredibly large, including over 300 genera and 2900 species. The short list above barely scratches the surface of all the plants in this subfamily!
How to Identify a Hoya
Hoyas contain sap that is milky or clear and often very sticky, like most of the plants in the milkweed subfamily. If you guessed that this milky sap is what earned the plants in this subfamily the name MILKweed, you'd be right!
Their leaves typically emerge in pairs, opposite one another at each of the nodes.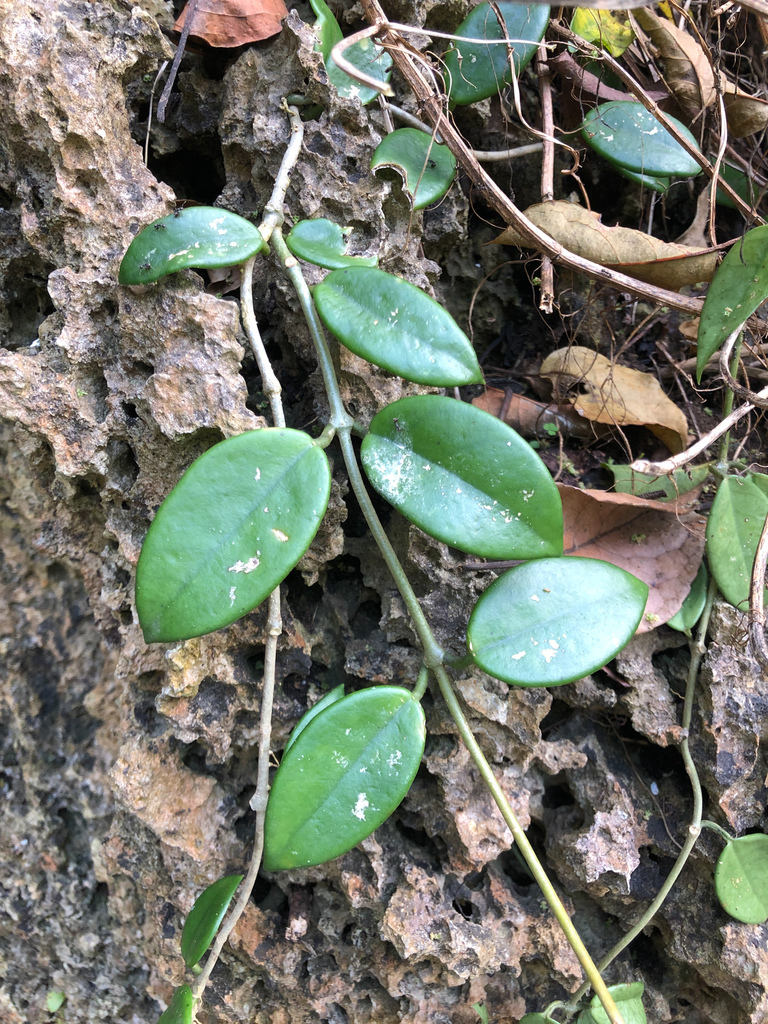 However, this isn't always the case as can be seen with Hoya imbricata, who grows single leaves at each node that form a dome-like shape attaching to tree trunks or other surfaces.
These tiny domes provide shelter for ants who in turn provide food and nutrients for the plant through their waste.
The nodes also have the ability to produce flowers and adventitious roots and shoots.
The flowers emerge from peduncles or spurs, which have the ability to flower over and over again. Each time a peduncle or spur flowers, its length grows.
Below are photos of a few of my hoyas with peduncles at various stages leading up to blooming.
From top to bottom, left to right: Hoya serpens with peduncle, Hoya krohniana splash with peduncle and buds beginning to form, Hoya 'Mathilde' with a peduncle bearing unmistakeable buds, and Hoya lacunosa 'Snow Caps' close to opening its blooms.
The flowers grow in umbels or half sphere-like clusters. Below you can see an umbel preparing to open.
Each flower consists of three parts: the calyx, corolla, and corona.
The petals of the flower is the corolla – which is typically 5-lobed and star-shaped.
The center is the corona, which looks to me like a miniature flower.
The calyx is the united sepals. Sepals are the leaf-like structures that protect the flower and are more easily described by looking at a rose.
In the photo below, the green leaf-like petals on the bottom of the red flower petals are the sepals. All of the sepals together form the calyx. The calyx in hoyas is often not green and blends in with the flower more than it does in the roses below.
Where Hoyas are Found in the Wild
Hoyas are typically found clamboring around trees or occasionally climbing rocky areas. Though there are a few hoyas that are bushy-type growers found growing out of the ground.
The majority are found in the tropical regions of Southeast Asia. Some are found at higher altitudes and cooler temperatures, but most prefer the warmer and more humid tropical conditions.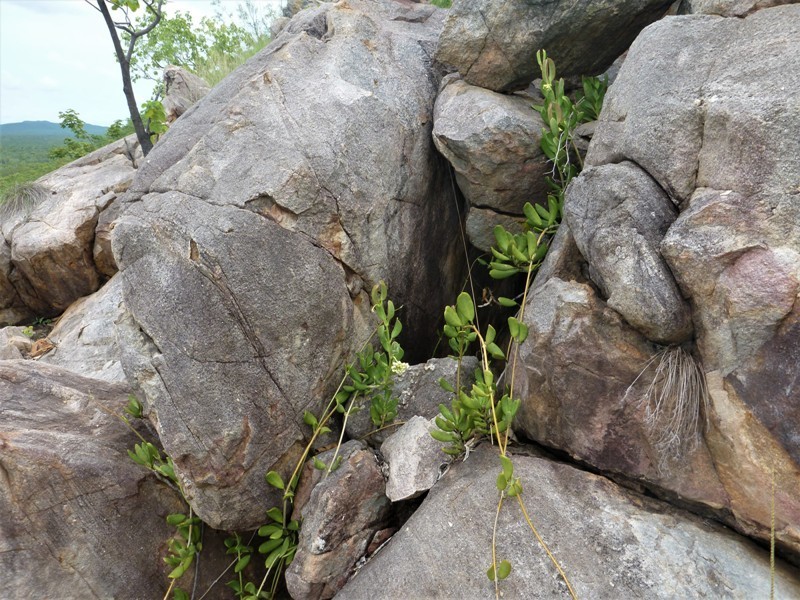 How a Hoya's Foliage Provides Clues About Its Origin and Care
Hoyas have adapted different leaf growth patterns to suit the environment they live in. Once I learned what some of those adaptations look like for each environment, I was better able to understand what kind of care they would need in my home to survive and thrive.
For example, Hoyas with large leaves are often growing in shadier spaces and need more leaf surface to absorb sunlight.
Thin leaves typically mean the hoya will need to be watered more frequently because less water is being retained in its leaves (it likely grows in a wetter environment).
More succulent-leafed hoyas are from drier environments and are storing water in their leaves. As such, they do not want water as frequently.
Smaller leaves often mean the opposite of larger leaves or that the plant receives a lot more sunlight and doesn't require as much surface area to absorb the light it needs.
Below is a photo of Hoya 'Joy', with its large dark green leaves. I've deduced that this hoya doesn't require as much light as some of my smaller leafed hoyas and that it's somewhat thinner leaves means that it may require more attention to watering.
Below is a photo of Hoya serpens. Hoya serpens tiny, thin, fuzzy leaves tell me it likes more light and more water. I check this one more often than most of my hoyas to ensure it isn't dry for long as it doesn't do well with extended periods of dryness.
Below is a photo of Hoya linearis. This one is interesting because it breaks some of the identification rules for me. Its smaller leaves tell me it likes a lot of light, but I would have guessed that it also didn't want to be dry for long. However, from my research I've found that this plant can easily be overwatered due to its very delicate roots. As such, I actually let the leaves near the soil dictate when to water. If the leaves are stiff and less pliable I do not water. If the leaves begin to soften and become pliable I know it is time to water.
Here's an example of a large-leafed, succulent Hoya. Hoya obovata doesn't need an extreme amount of light or water, because its large leaves are able to absorb light in shadier areas and its succulent nature continues to provide the plant water after the soil has dried.
What's your guess on the care requirements of Hoya polyneura? It has medium-sized foliage that is fairly thin.
How about Hoya curtisii, with its tiny leaves that are somewhere between succulent and thin?
All About Hoya Flowers
Flowering
One of the reasons hoyas are so popular is because of their unique and gorgeous blooms. Many hoya enthusiasts work hard to bring each of their plants to bloom, some of which are very difficult to achieve.
Hoyas often need a few years of maturity to be able to bloom and some people believe they also are more likely to bloom if housed in a tight-fitting pot. Hoyas, unlike some plants, like to be rootbound.
In my experience, I've had hoyas that are both rootbound and not go into bloom, but those that are more mature with a more elaborate root system do seem to bloom more often.
Scent
Hoyas have varying scents at varying strengths. They bear the reputation of having extremely strong-smelling blooms because Hoya carnosa's blooms are very fragrant and potent. However, the smell and strength of their blooms is as varied as their foliage.
I've heard that some smell like chocolate, vanilla, cinnamon, or just floral.
The times I have experienced blooms in my own home, the fragrance was very modest (even those plants who dripped nectar) and lightly floral. I'm hoping to experience one of the more vibrant and flamboyant bloomers soon and I will report back on the experience.
Nectar dripping
Hoya blooms can drip sweet nectar in an effort to attract pollinators. Some drip a small amount and some drip so much that their caretakers will bag the blooms to catch the nectar in an effort to prevent a mess and attracting pests.
Flower forms
There are 5 different flower forms that I am aware of, each beautiful and different. Below are their names with at least one photo describing each.
1. Reflexed Flowers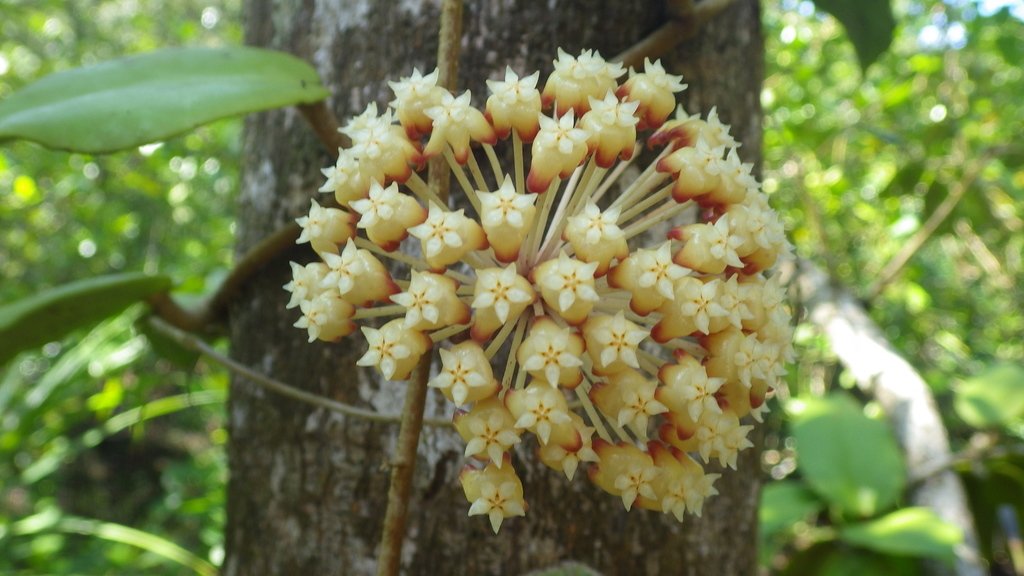 2. Flat or Spreading Flowers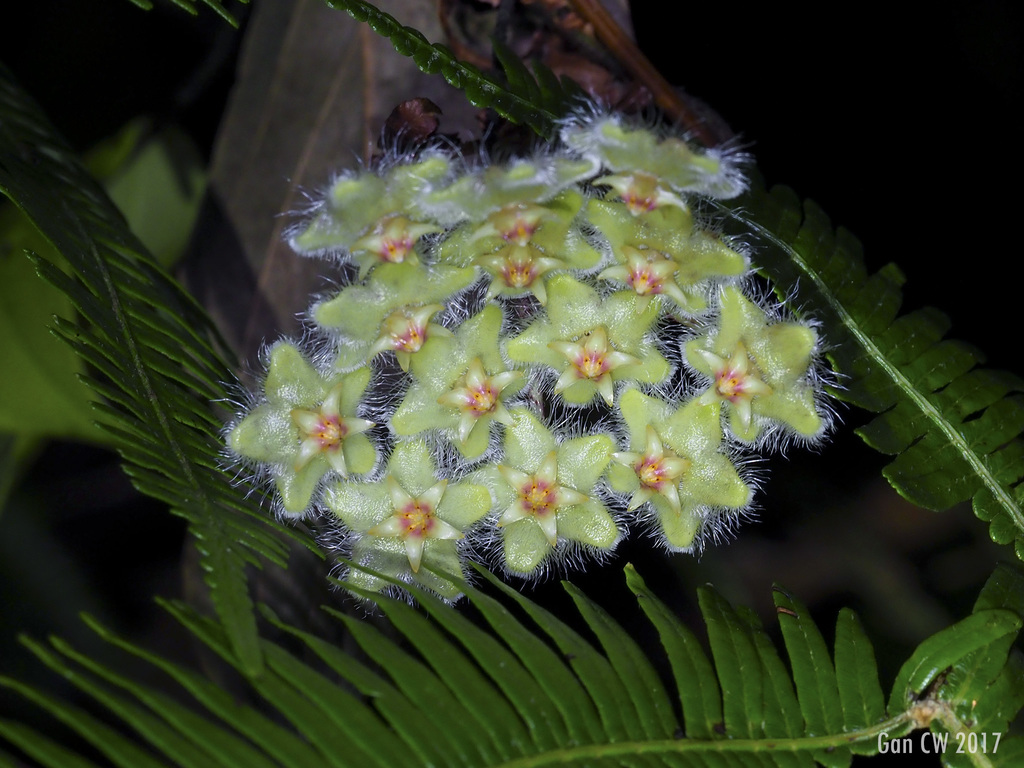 3. Cup-shaped / Campanulate / Bell-shaped / Claw-shaped Flowers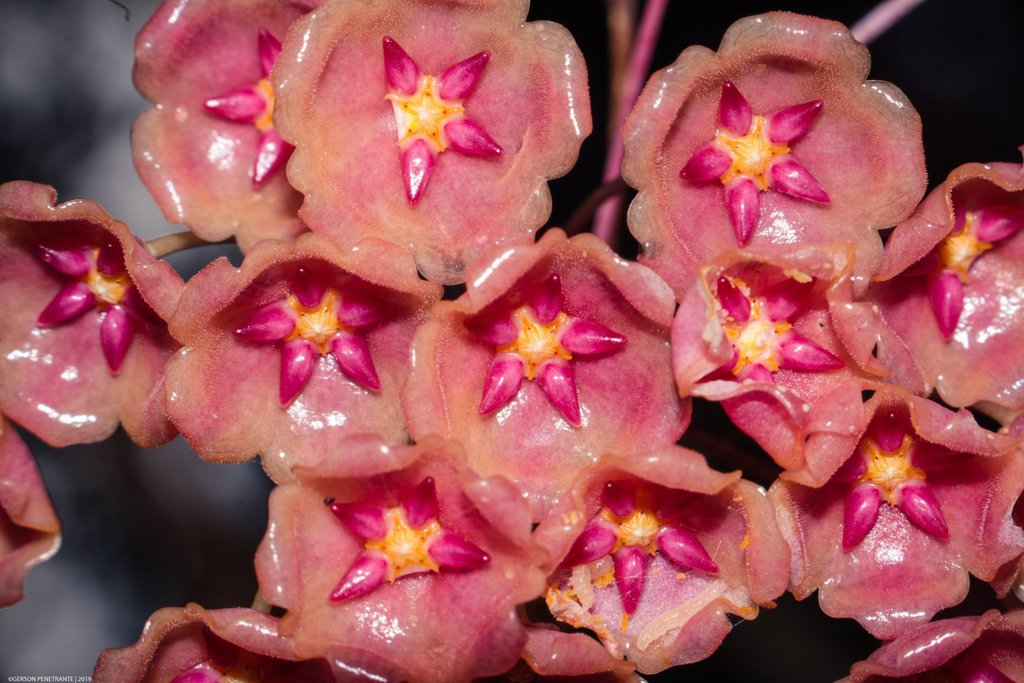 4. Revolute flowers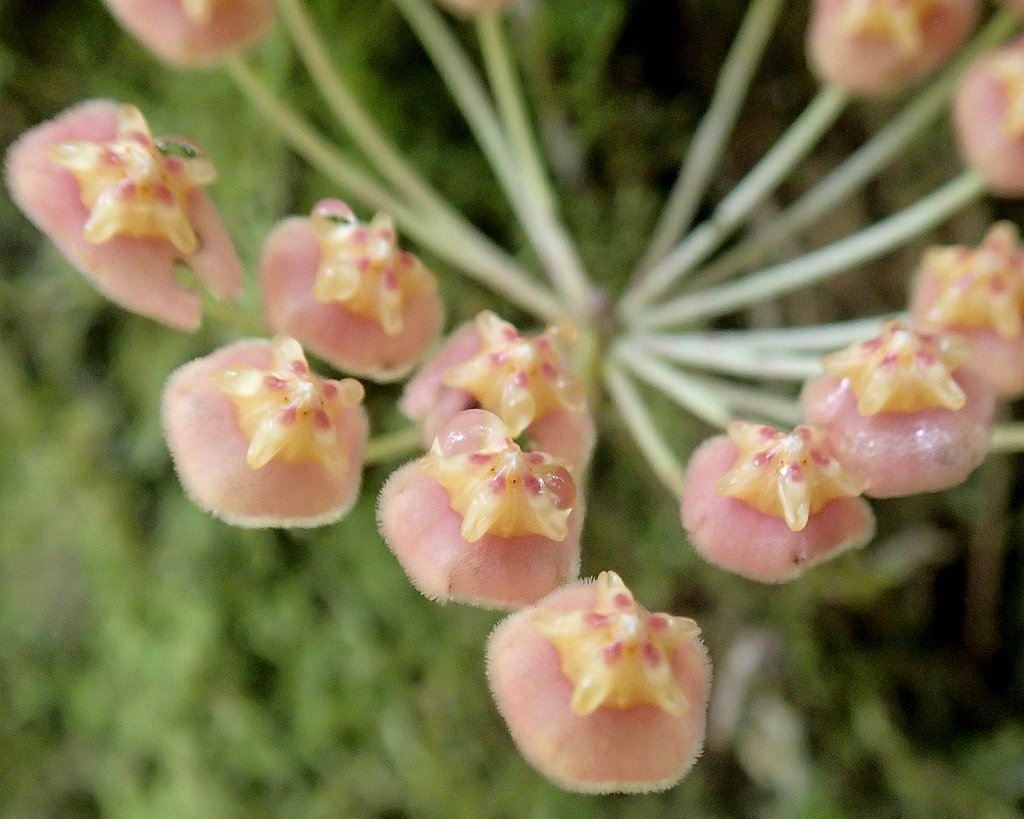 5. Urn or Urceolate Flowers
The Diversity of Hoyas Out There is REMARKABLE!
Early on in my knowledge of hoyas, I was really only aware of those varieties commonly available locally. After about 6 months of trying to consume everything I could about hoyas, I began to see that the world of hoya was vast.
Hoya foliage ranges from tiny (like Hoya curtisii) to dinner plate size (Hoya latifolia) with leaf patterns and blooms just as wide-ranging.
While I do love the unique blooms that hoyas produce, I am absolutely head-over-heels when I see the foliage of all the possible hoyas out there. This section is to share some of the gorgeous, unique foliage of hoyas that expands much further than those we see in big box stores in hopes to show you why I love the foliage so!
Hoya compacta
Hoya sp. Gunung Gading (a finlaysonii type Hoya, for those interested)
Hoya kentiana variegata, the beautiful oranges and pinks are brought out in high light
Hoya sp. EPC 1001
Hoya pubicalyx 'Reva'
Hoya kerrii
Side note on Hoya kerrii: These plants are often sold as single leaves rooted because it is cute to see a single heart in a pot. Just know that if you purchase one of these plants there is a very good chance it will never grow any larger than a single leaf.
In order for the plant to develop additional shoots and leaves, the rooted section needs to have some portion of stem cells. Occasionally people do get lucky and have a rooted H. kerrii leaf with stem cells, but the majority of the plants do not.
Hoya compacta variegata
Hoya vitellinoides
Hoya australis 'Lisa' – new growth emerges as pink or red, making this one of my favorites!
From top to bottom, left to right: Hoya lacunosa 'Snow Caps', Hoya heuschkeliana variegata, Hoya meredithii, and Hoya krohniana 'Super Splash'
Hoya imbricata at Matthaei Botanical Gardens in Ann Arbor, Michigan
Hoya carnosa
Hoya carnosa 'Krimson Pricess'
Hoya carnosa 'Krimson Queen'
How to Successfully Care for Hoyas
There are many passionate, successful Hoya growers that use different growing mediums, pots, and other supplies. The information below is based on what has worked for me, inspired by information from Vermont Hoyas and many other growers. So what I am really saying is… adapt this information to work for you and expect to find accounts of others who do things very differently!
Light Requirements for Hoyas
Hoyas love light, but many cannot withstand direct, intense sunlight all day. Hoyas seem to do well in both East and West-facing windows where they receive a few hours of direct morning or afternoon sun.
To help prevent the sun from burning the leaves, particularly in west-facing windows that receive the hot afternoon rays, I use either blinds or sheer curtains.
Hoyas also do quite well near, but not in, South-facing windows (which offer direct sunlight all day).
It should also be mentioned that Hoyas are excellent candidates for grow lights. At this point, about 80% of my hoya collection is under grow lights, where they are thriving. In fact, the hoyas that I have successfully brought to bloom were under these lights.
Watering Needs for Hoyas
The vast majority of the common hoyas (in the US at least) can tell you when they need to be watered. Their older leaves near the base of the potting medium will become more pliable or soft and sometimes wrinkly. When this happens, it is time to water them! (common hoyas I am referring to: Hoya carnosa (including variegated and other cultivars like Krinkle 8), Hoya compacta (and its cultivars), Hoya lacunosa (and its cultivars), and Hoya sp. aff. burtoniae (sometimes mislabelled as Hoya bilobata or DS-70).
These hoyas have thick, succulent leaves that can retain water for longer periods of time (which is why they do not require water as frequently).
There are also Hoyas with thinner leaves that will need water a bit more regularly. For example, Hoya bella has smaller, less succulent leaves and likes to be watered as soon as it is dry because it cannot retain as much water. Another example in this category is Hoya sigillatis, which has very thin stems and thinner leaves (compared to many hoyas).
Lastly, there are some hoyas that have very succulent leaves that do not become soft when in need of water. When caring for one of these, I will make sure I don't water before the soil is dry and often allow it to remain dry for a couple of days before watering. An example of a Hoya in this category is: Hoya sipitangensis
Signs a hoya isn't watered enough: the vines will begin to crisp at the ends and die back, the leaves will lose their succulence and/or droop
Signs a hoya is receiving too much water: the leaves and stems will become soft and mushy and will not regain succulence after watering (this is also often a sign of potential root rot and a good reason to investigate the health of the plant's roots)
Soil or Potting Medium for Hoyas
For nearly all of my hoyas, I use a combination of premixed indoor potting mix, orchid bark, perlite, and horticultural charcoal. This is a mix I adapted between the information I have gained from other growers and products I am able to purchase locally.
I chose this mix because the vast majority of hoyas are epiphytic or epilithic and are not used to having water around their roots for any length of time.
To prevent water for sitting around their roots I have added lots of different chunky and porous materials.
I don't measure when I mix my soil, but I would guess that I use about 50% potting mix, 25% orchid bark, 25% perlite, and a handful of horticultural charcoal.
I also successfully grow several hoyas in passive hydroponics or semi-hydronics. If you would like to learn more about how to do that, click here to read my post.
Pots for Hoyas
As with all topics relating to hoyas, there is a lot of debate about what is an appropriate pot to use for hoyas. A lot of people are very against using terracotta clay pots with hoyas because they say that the roots may attach to the clay and, when it is time for repotting, will rip and be damaged when removed. These people often recommend plastic grow pots instead.
Other individuals, including myself, do grow hoyas in clay pots successfully. As someone prone to overwatering, terracotta just makes sense for me to use. So far, I haven't suffered any serious consequences when repotting my hoyas out of clay pots.
I have heard that you can soak the pot with the plant in it prior to repotting which will loosen the soil and roots so it can be more easily removed and less prone to damage. I haven't tried this myself, however.
Hoya Growth Habits
As we've discussed previously, hoyas are found growing in many different environments. These varied growing conditions have allowed hoyas to develop a range of growth habits.
Hoyas can be found growing as shrubs, trailing vines, and robust, climbing vines.
Having an understanding of how your hoya grows in nature can help you to provide them a comfortable growing space. For example, different hoyas will enjoy hanging baskets versus trellises versus a pot with enough vertical space to grow nice and shrubby.
Fertilizer and Hoyas
Like most plants, hoyas appreciate fertilization during the growing season. Using a balanced, organic fertilizer on a bi-weekly or monthly basis will ensure the plants do not suffer from over-fertilization. A synthetic fertilizer could also be used at half or quarter strength.
I personally use Espoma's Organic Houseplant Fertilizer (NPK is 2-2-2). Click here to see this product on Amazon.
Many people, including myself, will also use a foliar fertilizer like Cute Farms Orchid Plant Food Fertilizer Mist. This is a fertilizer that you spray on your plant and it absorbs through its leaves. Here's a link to Amazon for this product.
I personally only spray my hoyas once a month or so, but I know a lot of people will spray their hoyas weekly or even more often. I don't know that there is one right way to do it, so finding what works best for you and your plants is the way to go!
Many epiphytic plants have the ability to take in nutrients through their foliage so they can get the nutrients they need while climbing amongst trees, since they are not in the soil where a lot of plants find nutrients.
Repotting Hoyas: New versus Older Plants
The most recommended advice is to repot a hoya (regardless of age) as little as possible. Many hoya growers say that hoyas do not enjoy being repotted (sometimes they even die after the stress of repotting) and actually grow and bloom well when rootbound.
Hoya growers also recommend waiting a few weeks (or ideally longer) before repotting a new hoya because they can be so sensitive.
Best practice is to just let the hoya live in its nursery or grow pot and use a cachepot (or cover pot) if you aren't a huge fan of the plastic pot's appearance. I've even placed the plastic grow pot inside a terracotta pot (which I much prefer the look of).
When do you repot a hoya then?
I repot hoyas when:
the potting mix the hoya is planted in is too water retentive, increasing the likelihood that root rot will set in
the hoya has developed a pest, like mealybugs, that can live in the soil
the hoya is drying out extremely quickly, showing that it is severely rootbound and in need of a slightly larger pot
the hoya begins to behave very strangely (losing leaves or not growing at all during a growing season) so I want to check the health of the roots to know how the plant is doing
the plant above the soil is very small compared to its pot and I am worried it is in too large of a pot
Methods for Propagating Hoyas
Hoyas can be propagated from cuttings because each of their nodes has the ability to produce adventitious roots and shoots. Hoyas can be propagated in water, passive hydro, sphagnum moss, or in soil. To check out my experiences propagation hoyas in water and in passive hydro, here are links to my articles documenting each!
Propagating Hoyas in Passive Hydroponics
Common Hoya Pest Issues
While hoyas are fairly pest-resistant, there are several pests that they can fall prey to. The most common are aphids, mealybugs, scale, and spider mites.
Aphids
Aphids seem to love all the plants in the milkweed subfamily and are often easily managed simply by blasting them off the plant with water.
This may need to be done several times as their egg sacks stick more firmly than the insects do and if it is a particularly bad infestation they may be hiding in hard to clean areas.
Mealybugs
Mealybugs like to hide in the nooks and crannies of a plant, but are fairly easy to control if in small numbers by using a q-tip dipped in rubbing alcohol to dab off any mealybugs.
When in larger numbers, a pesticidal spray or systemic may be necessary. I prefer using a homemade organic spray like the one explained in my post linked here. (this spray could also be used for aphids or spider mites as well.
Scale
Scale is an exceptionally frustrating pest because their scale-like armor leaves them nearly unaffected by pesticidal sprays. It is best to remove any scale insects that can be seen manually and then spray with a pesticide or apply a system.
The plant will likely need to be monitored over the next couple weeks for more insects and removal. If using a spray, the spray may need to be reapplied. For more information, check out my post here.
Spider Mites
Spider mites are often the result of a very dry environment (possibly an underwatered plant or sick plant also) and may go unidentified until they've created quite the infestation.
Washing down the plant thoroughly, blasting the fronts and backs of the leaves as well as the stems can help to knock some of them off.
Then applying a pesticidal spray every few days (as well as monitoring for insects and webbing) over the next couple weeks will likely be necessary. For more information, check out my post here.
Related Posts